$1 RADIOSHACK 16-PACK BATTERIES
FIRST COME, FIRST SERVE (limited to the first 200 coupons)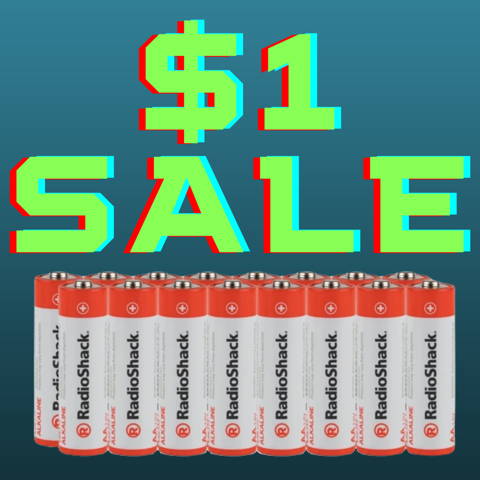 For a very limited time, we are giving out batteries for just $1.

You can get a 16-pack of AA Alkaline RadioShack Batteries for over 85% off if you use the exclusive coupon "DOLLARPOWER" at checkout before all the coupons are used up!

Only available to the first 200 users!
Guaranteed Up To A 10-Year Shelf Life

Trusted RadioShack Branding

Save Over 85% Off Retail Price
Just type in code DOLLARPOWER at checkout! FAST SHIPPING IN 4 DAYS OR LESS FREE SHIPPING ON ORDERS OVER $99 100% SATISFACTION GUARANTEED

EASY & FREE RETURNS IN 30DAYS

We decided to offer our 5-star, world-class RadioShack branded 16-pack of AA alkaline batteries for just $1 to the first 200 people who claim it.

First come, first served!

All you've got to do is apply coupon code "DOLLARPOWER" at checkout.
WORLD-CLASS ALKALINE BATTERIES

RadioShack powers millions of devices around the world with these batteries whether it's TV remotes, cell phones, watches, or just to keep safe for when you need it most.

RATED 5-STARS FOR PERFORMANCE
We put together a product that speaks for itself. Batteries have become our flagship product and it shows in our reviews that customers leave with us.

Our batteries boast a 10-year shelf life. That's right. For up to 10 years from now you can pick a battery out of our boxes and plug it into your devices for instant gratification.
SEE WHAT PEOPLE ARE SAYING
Sunday,Monday,Tuesday,Wednesday,Thursday,Friday,Saturday

January,February,March,April,May,June,July,August,September,October,November,December

Not enough items available. Only [max] left.

Browse Wishlist

Remove Wishlist

-->